December 3 marked an exciting milestone for the entire Aligned team as we "topped off" our second hyperscale data center in Ashburn, VA alongside our general contractor HITT, other construction partners and representatives from Loudoun County.
HITT representative Mike Abe kicked off the celebration by congratulating all involved and inviting team members to sign a steel beam in order leave their mark on another momentous Aligned project.
Aligned's SVP of Design and Construction, Michael Morris, followed by thanking all of Aligned's construction partners for their diligence, dedication and hard work during a truly unprecedented time in our industry. He also gave kudos to the City of Ashburn and Loudoun County representatives, who were instrumental in enabling Aligned to uphold its continuous commitment to quality and speed to market.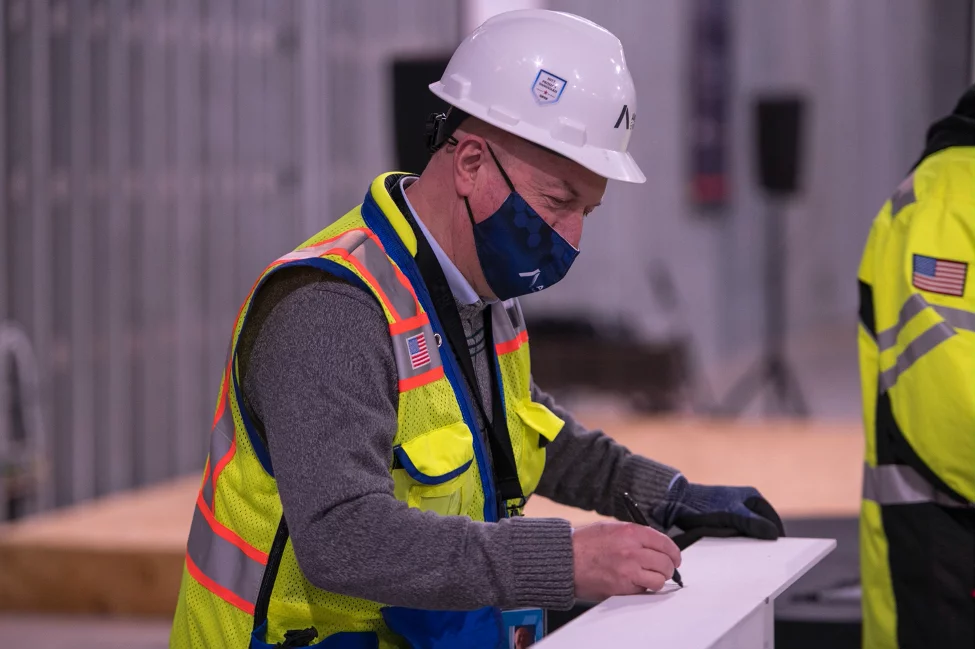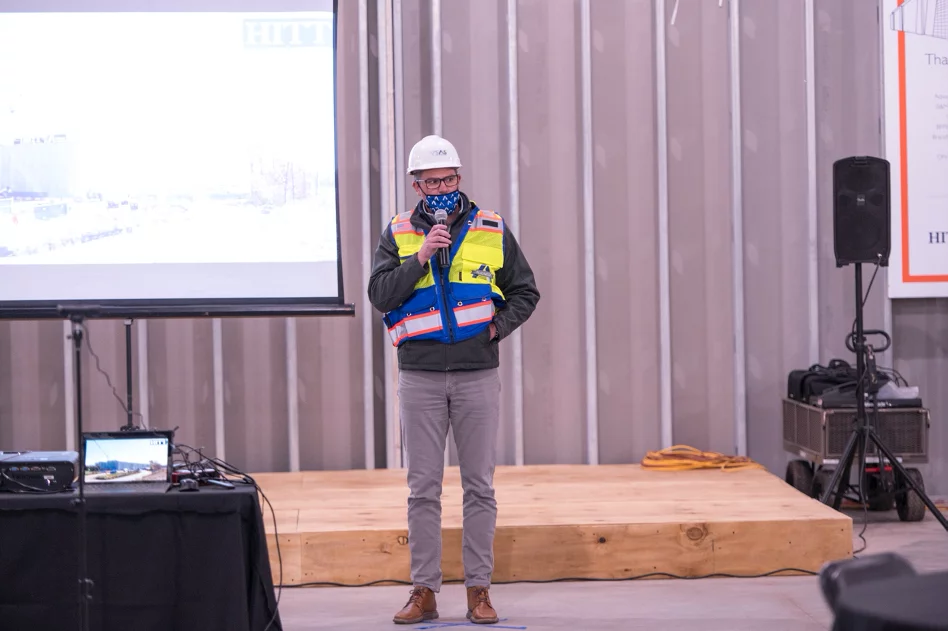 Furthermore, Michael touched on the importance of working with local partners and subcontractors in order to bring more jobs to the local economy, the importance of attracting more business investment to the region and the critical importance of data centers during the COVID-19 era. Michael went on to emphasize the importance of safety for Aligned and its commitment to maintaining a safe working environment, from construction to operations.
Rounding out the event were HITT's Michael LaBare with a Safety Moment as well as Tim Grab and Ryan Wagner.
Aligned's multi-building hyperscale data center campus in Ashburn is approximately 26 acres. Construction on IAD-02 was kicked off shortly after the completion of our first Ashburn data center, which was finished in just 6.5 months. Our second data center, IAD-02, is a two-story, 513,000 sq. ft. building expandable to 120 MW – complete with an exterior mechanical yard. We are excited to continue our expansion and investment in Ashburn, supporting customers with adaptive, efficient data center solutions.
To learn more about Aligned and our Ashburn data center campus, visit
www.aligneddc.com/data-centers/ashburn/.