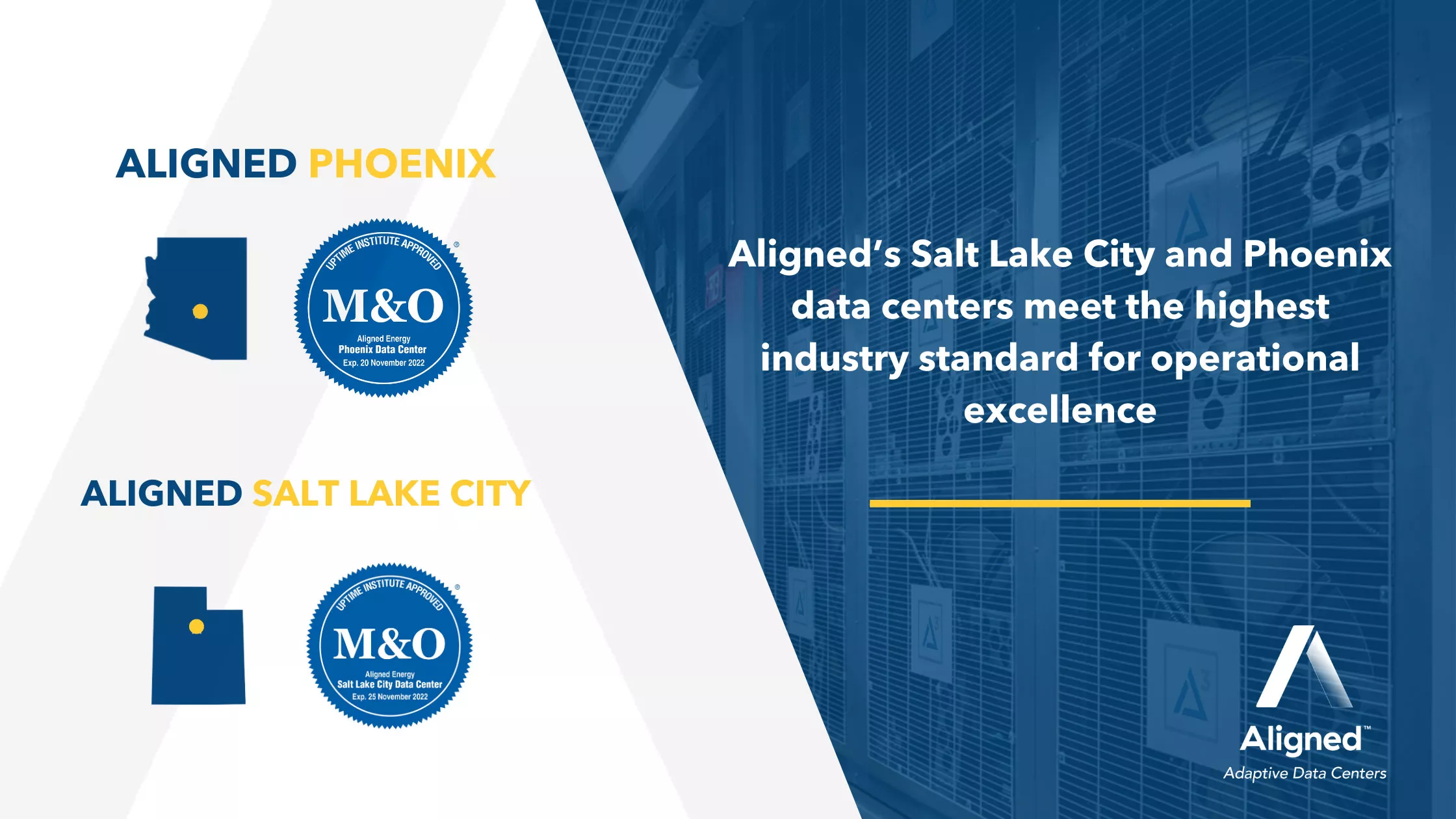 Aligned Phoenix and Salt Lake Data Centers Receive Uptime Institute's M&O Stamp of Approval
The Uptime Institute's Management & Operations (M&O) Stamp of Approval validates the critical facilities management and operations practices of an existing data center. Earning this prestigious credential demonstrates a data center provider's commitment to excellence, aligns its teams with a consistent set of standards, and provides independent, third-party validation that a facility meets the key criteria proven to ensure availability. It also demonstrates to a data center provider's stakeholders, and the market, that the organization has implemented highly effective operating and risk management practices.
Now, more than ever, data centers are rightfully perceived as the backbone of the digital economy. So it is with no small measure of team pride that Aligned is once again pleased to receive the Uptime Institute's M&O Stamp of Approval for its Phoenix and Salt Lake City data centers. The Uptime Institute's M&O Assessment takes a holistic view that covers multiple criteria in five categories, including staffing and organization; maintenance; training; planning, coordination and management; and operating conditions. Because mission-critical environments change over time, the Uptime Institute's M&O Stamp of Approval must be renewed every two years to ensure continued infrastructure performance.
The achievement is especially auspicious as Aligned just completed its second data center in the Salt Lake metro area. The completion of the initial phase of Aligned's SLC-02 data center, a new 48 MW, 240,000 square-foot facility that is expandable to 60 MW, will add significant capacity for organizations needing adaptive, efficient and scalable data center infrastructure for their growing cloud and application workloads.
There's a growing buzz surrounding the Salt Lake City metro area's emergence as a major data center market, and for good reason. The Salt Lake market offers extensive connectivity options, including a newly opened cloud region by a global cloud services provider (CSP), flexible infrastructure tax credits and attractive alternative energy incentives. Utah also enjoys some of the lowest electricity and natural gas rates in the U.S., and renewable energy sources such as solar and wind are also rapidly growing.
Meanwhile, in Phoenix, one of the top data center markets in the U.S., Aligned's 180 MW, 550,000 square-foot, Phoenix data center campus demonstrates our continuing commitment to solving the world's toughest sustainability challenges associated with data center infrastructure, energy consumption and water usage.
Thanks to our patented, energy-efficient cooling technology, Delta3, our adaptive data center platform already requires up to 80% less energy and consumes up to 85% less water with the ability to run waterless as required, reducing points of failure, tenant total cost of ownership (TCO), and expense across all Aligned facilities.
But Aligned wanted to go a step further.
We sought to achieve even greater levels of water conservation and water usage savings, so Aligned installed a soft water program to the fluid cooler system at our Phoenix data center. The soft water management program is a holistic approach to saving water, energy, labor cleaning hours and treatment chemicals, while maintaining excellent equipment health. The installation of the soft water management program at Aligned's Phoenix data center resulted in annual makeup water savings of 24 million gallons, a 50% reduction of chemical usage when compared to a traditional program, and actual annual water savings of $114,000, plus $15,000 in evaporation.
Why is this especially significant?
Data centers contribute to the industry's consumption of 45 percent of all available clean water, which is especially a problem in developed countries, including the U.S. Hence, water usage has become a top-of-mind concern among environmentally-conscious data center customers — and Aligned, as always, is listening to them — as we strive to offer businesses a competitive advantage by improving sustainability, reliability and their bottom line.