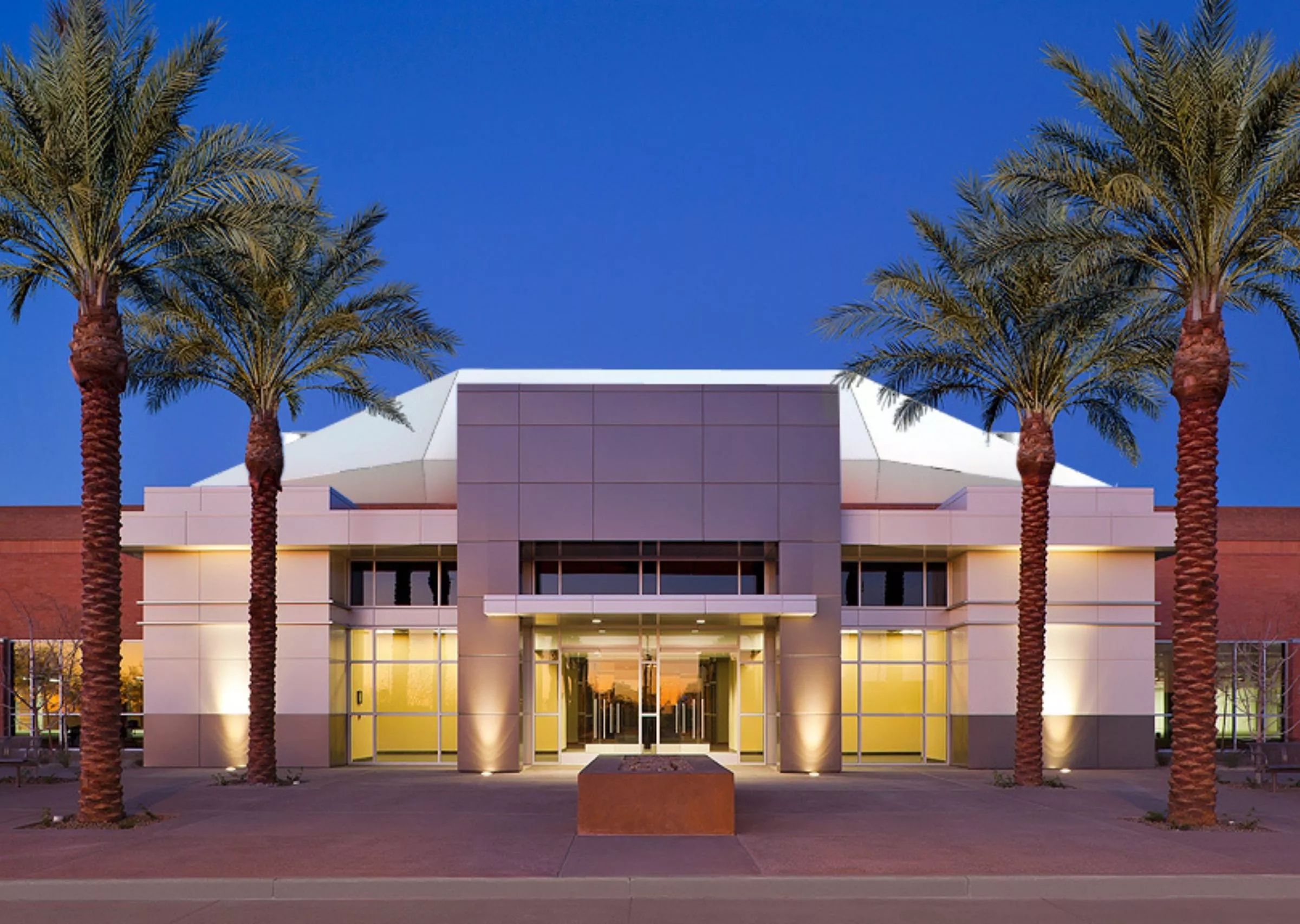 Why Phoenix?
Phoenix is the sixth-ranked data center market in the country, according to CBRE.
Cloud, eCommerce, financial services, healthcare, technology, and telecom companies as well as hyperscalers are gravitating to Phoenix. Data centers in Phoenix are located close enough to many major urban centers, including Los Angeles, to deliver digital services without significant latency.
As a location close to areas where IT services are in high demand, operating and energy costs are low, and natural disasters are uncommon, the Phoenix region is an ideal place for cloud service providers hyperscalers, and large enterprises looking to deploy their digital infrastructure in proximity to the West Coast.
Arizona has a reliable power grid and ample access to renewables for data center operators and their customers who are looking meet sustainability goals. Arizona public utilities generate power from a variety of stable sources and charge substantially less per kWh than other Western states, according to the U.S. Energy Information Association. The Arizona Public Service (APS) has one of the country's most substantial renewable energy portfolios, using a balanced energy mix that is 50% carbon-free. 
Additionally, the Arizona Commerce Authority has a program that incentivizes companies that collocate in Phoenix with a 20-year sales tax exemption that can mean millions of dollars in savings. Plus, the cost of doing business in Phoenix is below the national average according to PwC.
Phoenix 01/02/03 Data Center Facts
Phoenix 01/02/03 Data Center
Completed 2017
55-acre campus
100% Uptime SLA
Industry-leading PUE
Security & Fire Protection
Multi-layer security design; motorized gates
24x7x365 in-house guard staff
Global monitoring via our Network Operations Center (NOC)
Impasse steel security fencing
Card reader access
Multiple checkpoints: mantraps, dual authentication (biometrics)
Connectivity & Power
On-net: AT&T, Cogent, Cox, Lumen, PacketFabric, VPLS, and Zayo
Near-net: Verizon
Diverse and dedicated substations
2N concurrently maintainable
Supports 1-50 kW per rack

 
Sustainability
Delta³™ cooling technology uses up to

 

85% less water and up to 80% less power
100% renewable energy available
100% of IT load matched with renewable energy sources
Cooling
Our hot aisle containment strategy absorbs heat at its source,

 

supporting standard and high power densities,

 

allowing you to scale vertically and horizontally without stranding capacity
Compliance
System and Organization Control (SOC) 2 Type 2 and SOC 1 Type 2
PCI DSS, HIPAA, HITECH, NIST 800-53, ISO 27001:2013, Uptime Institute M&O Certified
Security & Fire Protection
Multi-layer security design; motorized gates
24x7x365 in-house guard staff
Global monitoring via our Network Operations Center (NOC)
Impasse steel security fencing
Card reader access
Multiple checkpoints: mantraps, dual authentication (biometrics)
Sustainability
Delta³™ cooling technology uses up to

 

85% less water and up to 80% less power
100% renewable energy available
100% of IT load matched with renewable energy sources
Cooling
Our hot aisle containment strategy absorbs heat at its source,

 

supporting standard and high power densities,

 

allowing you to scale vertically and horizontally without stranding capacity
Compliance
System and Organization Control (SOC) 2 Type 2 and SOC 1 Type 2
PCI DSS, HIPAA, HITECH, NIST 800-53, ISO 27001:2013, Uptime Institute M&O Certified
Location
2500 W Union Hills Drive
Phoenix, AZ 85027
What's Inside
Cooling Infrastructure
Delta³™ technology supports mixed density deployments up to 50 kW per rack
Power Distribution
Flexible, modular equipment designed for hyper-scalability,
resiliency and 100% uptime
Sustainability
Ultra-efficient, rapidly deployable infrastructure
with renewable power options
Operational Excellence
Customer-driven team,
offering remote hands assistance for enterprises
Customer Portal
Real-time visibility and control
of your infrastructure
Security and Compliance
Multi-layered physical security
and stringent data protection standards
Phoenix Data Center Photos